It has been my experience that folks who have no vices have very few virtues.

Abraham Lincoln
It's been one hell of a week. I wish I could say that it's all been wonderful but that would be a lie. Apart from a few good things happening, overall it was bloody awful. I try to only put good into the universe but somehow lately, the bad just keeps finding me. It seems living the life of a reclusive whore is not enough to stay out of trouble. There is however one common thread or theme that ties all of this weeks events together and that theme can only be referred to as being real.
I received a long winded email yesterday from a stranger that was very complimentary. I'm not joking, like two whole paragraphs just containing compliments. I am a person who uses compliments sparingly. My philosophy in life is that if you over use and abuse kind words, one day when you really need to use them – they may have lost their meaning. I sometimes struggle to accept vast overtures and salutations and if they are not short and accurate, am inclined to question their authenticity.
Perhaps this is a reflection on my self-esteem. I was raised to thank people when receiving a compliment and never to question it. But this tributary email was just so protracted that when I responded, I couldn't acknowledge the compliments. It felt completely wrong. I merely acknowledged the communication and gave some information that was requested.
This was followed today by another email full of compliments. By now, there is no question in my mind that the situation smacks of insincerity. When strangers give compliments to such an extent as to subjugate themselves before me I have to ask myself what's the angle? Call me paranoid but is this not another form of manipulation or control?
Some people are in such need of acknowledgement and re-enforcement that they become addicted to this sort of praise. Maybe they need and crave this so much that they become dependent on the person dishing out the accolades. I don't know, I'm just questioning the situation and wondering what the possible aim of such correspondence might be.
I feel that I am being lured into a sweetly embellished, cleverly disguised game of sado-masochism albeit at this stage a game of words. I'm completely stymied? I don't really know how to handle the situation so I have simply not responded. Maybe I have cost myself a good booking with a true admirer. I seem to be costing myself quite a few of these lately but the parameters of this engagement are already breaching my personal boundaries and comfort levels. I'm not turned on by verbal acquiescence.
Having started out in clubs and answering my own telephones for the duration of my career, I have grown quite accustomed to insults, being judged and frowned down upon. Has this affected my self-image? Maybe, to some extent but I have pushed on and always at the very least shown respect to myself and the person before me. I have not always received this same respect in return but have learned the appropriate lessons and corrected my business accordingly. I am too old to deny what I have learned and too weary to place myself back on the battlefield. It seems people are just going to accept me for who I am, or move on.
I'm getting to the stage in life where I can acknowledge my floors as a human being but love myself for it anyway. We are all fundamentally floored, that is what life and experience does to people. It cannot be avoided. Like diamonds we are all uniquely floored and those floors comprise part our individual blueprint, our brief stamp on a history that will soon forget us. The only thing we can extract from life is the happiness we derive from it and in the pursuit of life, liberty and happiness we all should be entitled to be ourselves. If we sometimes disagree then we should seek out people that we can get along with.
I did have a very pleasant experience this week dealing with a new photographer who is a perfectionist. Always looking for the best possible light, the best possible angle almost to the extent of removing all of the sexiness from a photo shoot. This woman is genuinely passionate about her work, she enjoys what she does and has learned from experience. Stopping a photo shoot to move a cable so that it doesn't have to be edited out afterwards. This type of foresight only comes from experience. However painful it may have been at the time, I appreciate her dedication and commitment to my photo shoot.
I would also like to express my sincere thanks and appreciation to my web developer who works through the night and treats my priorities as if they were her own. These are the kinds of people that I want on my team and I will walk to the ends of the earth, until my feet bleed to find them.
PS: Speaking of diamonds. My favourite people, Finweek are at it again. Using sex to sell financial magazines. Below an exhibit of their latest masterpiece.
PPS: Found this funny site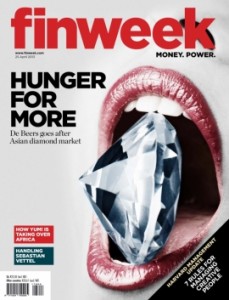 Stuff Sex Workers Eat
http://stuffsexworkerseat.tumblr.com/
We are human after all.
PPPS: Another funny clip I found on the web
Heather Graham Studied The Hour-Long Orgasm
teamcoco.com/video/heather-graham-orgasm
On a more serious note, my man Bill Gates Wants to Build a Condom That Feels Good. That's Not "Pervy."
http://www.slate.com/blogs/xx_factor/2013/03/25/bill_gates_funds_condoms_gates_pledges_100_000_for_a_more_pleasurable_condom.html